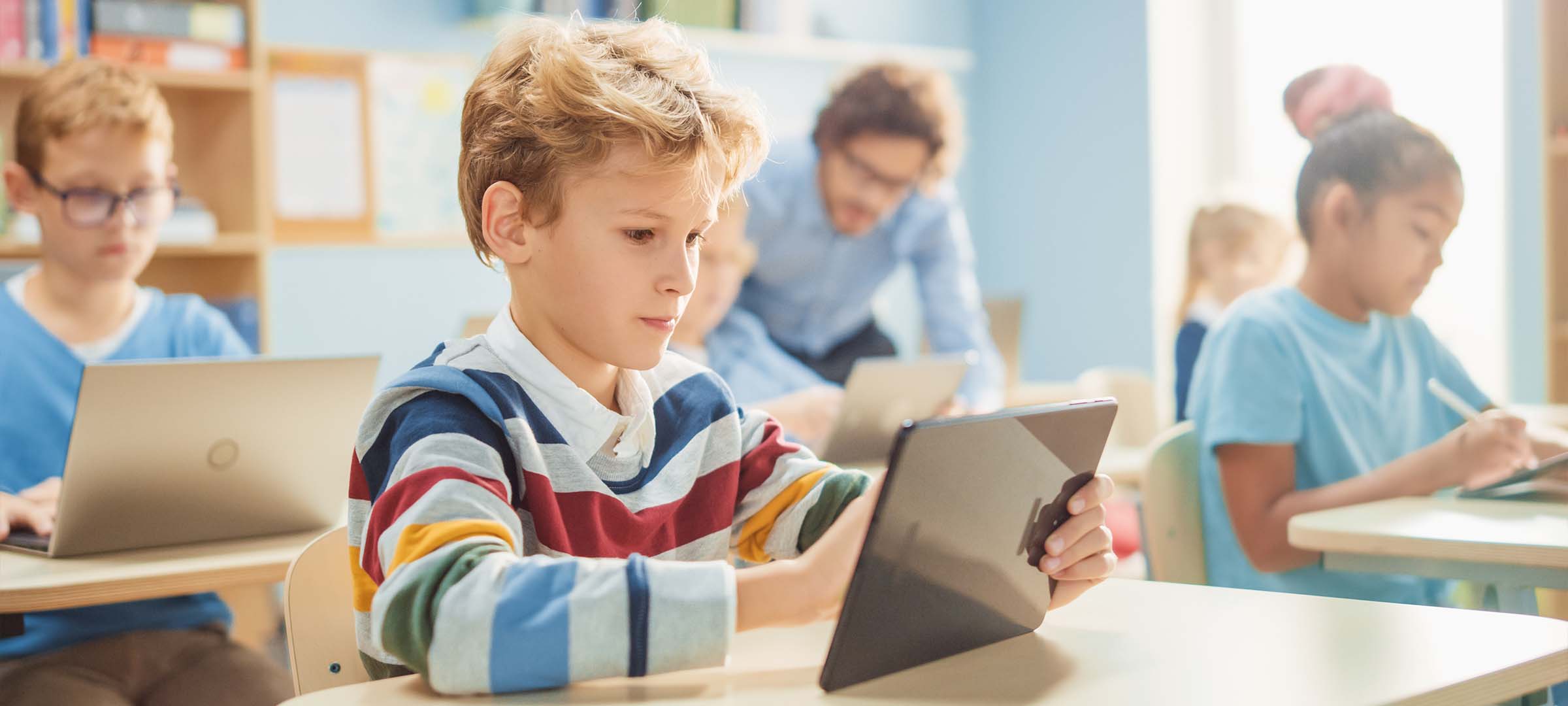 Digital media at school
Digital media have become an integral part of our everyday lives. But how present are they in schools and what challenges are hidden behind their application?
The corona pandemic has shown that German schools are far behind in terms of digitization in international comparison. The demand to switch to digital teaching from one day to the next challenged not only teachers, but also students. Especially social and financial differences within the student body became visible, since not every child had access to a laptop at home and thus could only participate in lessons with difficulty. Even the support of weaker students was only possible to a limited extent online, so that some lost touch with the learning material. But it's not just the pandemic that is making media present in schools. Today, more than 90 percent of young people spend between twelve and nineteen a day on their smartphones. The requirements of the world of work also show that new media are becoming increasingly relevant. This raises the question of how leading media are used in German schools and where there is room for improvement, but at the same time also what risks are hidden behind media integration in schools.
Definitions
Technical progress has shaped many new terms, including in the field of media education. This primarily deals with the pedagogical influences of media and their use. The technical terms established in this field of research are also becoming increasingly relevant in the context of discussions. This makes it all the more important to have an overview of their significance.
Digital Media
The term digital media is used for electronic media based on a digital code. Their functions are mostly focused on the field of communication and information processing. New media is a synonym. Computer technology is the basis of digital media. The contents of these are therefore not analogue, but can only be read with digital data carriers. Examples of this would be an e-book or a video; the digital devices that can play them, using e-book readers, tablets or smartphones. In the context of school, digital media can take different forms. Among other things, this includes digital worksheets and texts, as well as programs for communication and sharing of data between teachers and students, and educational games or tests.
Media competence
Media competence is the ability to handle digital media and devices. It is relevant that the user is able to use the media in a targeted manner. This means that students, for example, use their computer professionally during an Internet search in order to develop the information they are looking for in a structured and efficient manner. An important part is media criticism. This requires a reflexive handling of the medium by the user. Students should not only be able to find information, but also classify it according to its quality. In addition to one's own handling of digital media and devices and the criticism of the data contained, media literacy also requires a fundamental understanding of media in general and the associated systems.
Media socialization
The process of socialization of an individual is always understood as an interaction between man and the environment and the resulting personal developments. The aim is for the individual to find his or her place in society. Media socialization is therefore about dealing with the media environment (television, smartphones, social media, etc.). The influence of the media on personality development is relevant. Media socialization is always dependent on historical and social circumstances. Children today are socialized with digital media much earlier than they were 100 years ago. It is important that media socialization is an automatic and not consciously controlled process. Thus, it is fundamentally distinguishable from media education .
Media education
While media socialization represents the uncontrolled growth of an individual into the media world, media education is a consciously induced process in which the acquisition of media competence is accompanied pedagogically. That is why media education is to be regarded as part of media education . In addition to parents, teachers also have a decisive influence on the media education of children and young people. But how deeply is media education already anchored in school curricula and how is media education implemented to acquire crucial media literacy in German schools?
GRIN recommendation: A good overview of the topic
Why are the reservations about digitalization so strong in Germany? Under what conditions could this change? How effective is digitally supported learning really? In his book, Tim Bastian presents the advantages and disadvantages of digitalization in school education.
Bastian describes how computer technology has developed over the last few decades and the importance it already has for teaching and learning processes as well as for the development of lessons. It clarifies how a learning-effective and reflected work with digital media works.
Digital media at school
German schools are very inconsistently equipped with digital media. While in one school there are already so-called whiteboards in every classroom, other schools do not have enough computers to teach several classes at the same time. But computers and whiteboards are not all that the magic box of digital media has to offer for students and teachers. Especially through distance learning during the corona pandemic, new concepts have been established.
E-Learning and E-Teaching
One of these concepts is e-learning. Undoubtedly, it is not a new invention and even before the pandemic, companies and schools relied on so-called e-learning (in the long form also electronic learning). Exactly, this refers to learning methods that are supported in some form by digital media and devices. This can be learning on the basis of electronic teaching materials, but also a PowerPoint presentation on a topic or a digital meeting via a video platform. Other terms used in a similar context include online learning or media learning.
E-learning can take different forms that differ from each other. Virtual teaching is particularly widespread at distance learning universities and, most recently, at schools and universities during the corona pandemic. This is a concept that does not rely on presence, but conveys content almost exclusively online and digitally. This form is often characterized by interactive features such as chat rooms or platforms through which content can be uploaded. One of these platforms that supports this teaching is Moodle, which is used by schools and universities alike.
In so-called blended learning, the positive features of digital teaching and face-to-face teaching are combined. It thus consists of an interactive concept that integrates face-to-face workshops or the like in addition to digital events. Due to constant developments and media pedagogical research, new concepts are constantly emerging, so that only a few can be mentioned here as examples.
While e-learning usually refers to the side of the recipient, i.e. the pupil or student, e-teaching is the corresponding term for the page that conveys the information. These can be, for example, teachers or lecturers. They create the content that can be developed during e-learning. However, the demarcation of the terms from each other cannot always be clearly separated, since teachers can also act as e-learners in dealing with digital media, but also students, among other things, act as e-teachers by creating a presentation and uploading it.
Learning and teaching with social media
Nowadays, when we think of social media or social media , we certainly first have platforms like Facebook, Twitter, Instagram, YouTube or similar media giants in mind. Basically, social media refer to digital platforms that connect people with each other and enable communication. The most important feature is the interaction already explained above, which is also a decisive criterion for e-learning concepts. This makes it clear that social media is an important tool that enables e-learning. But how exactly can they be used and what social functions can the digital world fulfil in relation to a face-to-face meeting?
Social media for students
Social contacts are particularly important at school. These have both a personality-shaping and a pedagogical function. Because when people come together, exchange ideas with each other, introduce each other to something or ask something, they reflect their own knowledge and non-knowledge in equal measure. In addition, the fun of learning is also anchored in the interaction, which is reflected in the school environment, especially in group work or discussions.
Social media are now trying to transfer these characteristics into the digital world. They offer students the opportunity to communicate with each other. For this purpose, the chat function is suitable, in which you can communicate with each other. This makes it possible to ask questions and discuss. Users often have the opportunity to specifically select the addressee of the message. Thus, a question can be addressed to a classmate, only to the teacher or to the entire virtual classroom. When a lesson is delivered via social media, other characteristics also emerge. While an hour in the classroom is usually one-time, a virtual lesson can be recorded and made available to students for rework. In addition, other digital media can be used to illustrate the content . In addition to a green board, videos can be shown, comments can be played or graphics can be created easily and effortlessly.
It also often happens that students join a digital network for secondary purposes. Even if the lessons take place on site in the classroom, students often create chat groups in which they can exchange ideas with each other about the content of the lesson or the formalities such as homework. This is due to the intense media socialization that children and adolescents are subject to today.
Social Media for Teachers
In addition to the students, the teachers can also network with each other and support teaching through social media. Three groups of people in particular are relevant target groups for communication via special platforms: pupils, teachers and parents. Each addressee has special functions. While the exchange between teachers is a social and non-hierarchical interaction, communication with students primarily fulfils a pedagogical function that is modelled on that in the classroom. Feedback discussions between teachers and parents via social media are much easier than at classic parent consultation days. However, it is important that teachers always fulfil a professional function when using social media in the context of school and teaching. The boundary becomes difficult when private profiles are found in social networks about teachers of students and a private exchange, even if only one-sided, arises, as this endangers a professional relationship.
Especially the networking with other teachers or pedagogical specialists offers ideal opportunities to expand one's own competences. Especially in the digital world, there are large differences in knowledge between the generations. While some have already grown up with smartphones, others find it difficult to operate a laptop. Through the network, support can be offered here. In addition, a protected digital space is created that enables specialist discussions . These approaches have already been taken up in research, which sees opportunities in the use of digital and social media in and around teaching. 
GRIN recommendation: Digital Learning and Gamification
This term paper discusses the advantages and disadvantages of Duolingo for students in schools in- and outside the classroom, while also analyzing the gamified mechanics of the application, as they are a core element of the learning experience. Structurally, this paper first looks at the topic of gamification. Secondly, Duolingo and its gamified mechanics are introduced, followed by an analysis of how well the app is suited for students, discussing advantages and disadvantages. Lastly, a summary of the findings and a conclusion will be presented.
Challenges for the school
Although digitization is already very advanced, it is still linked to decisive criteria. Among other things, knowledge and financial resources are to be mentioned. If you want to participate in the digital world, you have to know how to deal with it and have the money to buy the appropriate equipment. Devices are becoming cheaper and cheaper due to new developments, but are still not affordable for everyone. Schools are also struggling with these problems. There, the grievances in the field of digitization have become apparent, especially during homeschooling in the pandemic.
Financial challenges
Education is primarily decided by the federal states. As a result, the state of digitization and the use of leading digital media in schools varies everywhere. While one school already has a so-called whiteboard in every classroom, the other has just three projectors available for the entire school operation. It becomes clear that one thing in particular does not prevail here: uniformity. The schools are mainly dependent on instructions from the responsible ministry in the state. True to the bureaucratic system in Germany, a school has to submit applications for purchases that must be approved in order to be financed by the state. Above all, speed does not characterize this process, it is sedate and laborious. This raises the question of whether schools do not partly refrain from requesting digital devices out of purely bureaucratic effort. The federal budget also provides for a digital pact for German schools this year, which guarantees financial support from the federal government and is intended to improve the development of digital infrastructure in schools. The aim is also to adapt the quality of the offer to media education and to align it with the new media.
For households, too, the spread of electronic devices in Germany has not yet taken place nationwide. Many families cannot easily afford to buy a computer. There are no payments explicitly advertised for this purpose. The Covid-19 pandemic provided emergency aid for the first time. There, parents could submit an application if the child did not have the necessary infrastructure for digital teaching and thus buy an Internet connection or, above all, a laptop. Of course, this also involves bureaucracy. In addition, not every child was able to receive support from the parents in setting up and using the digital devices.
Social challenges
In addition to financial expenditure, the effects of digital media on social coexistence should not be ignored. Media socialization starts earlier than thirty years ago, at least the media have now become different. While children used to grow up with a picture book in their hands, they now grow up with a mobile phone in their hands. This presents the children and especially their parents and other companions with a great challenge. The dynamics that can form on platforms and in social networks should not be underestimated. The bullying that took place in the schoolyard for a long time is now happening online on the Internet. Thus, it penetrates into the private space of the students, is possible around the clock and the perpetrator is not always known. In addition, it may no longer be just the trio that bullies. Cyberbullying can quickly spread widely and it is not uncommon for followers to be incited to join in and increase the pressure on the victim. Serious are not only the individual crimes such as insults, but the often associated process of exclusion from the class community or special cliques / peer groups. In addition, the fundamental potential for exclusion with regard to digital media and devices is very high. While in the past you were laughed at for the old backpack, today students are laughed at because of outdated mobile phone models. The pressure on students to belong and be modern continues to increase.
Even in the classroom itself, it is not said that the use of digital media has only positive influences. Especially the work in computer rooms represents a media pedagogical and thus also social challenge. Because the distraction potential of the Internet is great. The students have to get involved in the teaching project in a targeted manner. Likewise, they must consciously choose not to access games or videos on the computer instead of following the learning material. Especially the factor of belonging and being cool can drive students to join classmates and play or even to want to show by playing that you are cool . The task of the educators is to design the lessons with new media in such a way that, in the best case, all students enjoy actively participating in the lessons and using the media according to their function.
Application examples and implementation in practice
The fact that digital media have long since found their way into many German schools has already been explained. However, how new media and digital devices are used varies. The possibilities are versatile and range from classic computer rooms to so-called notebook classes.
Media Licence
The media licence is a core aspect of promoting the media competence of pupils. Especially in Bavaria, it is particularly supported by the Foundation for Media Education. The aim of the teaching series, which is specially designed with materials, is to sharpen the understanding of social and digital media. An essential part is to give the students tips so that they consciously check the information offered by the Internet with regard to credibility and reliability. At the same time, their awareness of cyberbullying and data protection will be strengthened in order to ensure fair treatment of social media platforms. At the end of the series of lessons, the students receive a certificate attesting to their participation and success. In this way, students are optimally prepared for digital media and how to deal with them according to their age level.
Computer labs
According to the name, computer rooms are special classrooms in which there is a fixed number of already connected stationary computers, which students and teachers can then reserve and use according to a teaching project. In most cases, the Internet access is only activated by the teacher. Often the teacher has his own computer and can follow the work of the students on the individual screens through a special system in order to keep the distraction of games and videos as low as possible. Such rooms are particularly often used in computer science lessons , where students are dependent on the use of the computer.
Media corners in classrooms and specialist rooms
The media corner is a designated location in the classroom or subject room that is available to students throughout class time and breaks. It contains a wide variety of media that provide information for the students. These can be books, learning materials, games, CD players and even computers or laptops and tablets. The possible uses are manifold and can be freely designed by the students under guidance. It is important that the possibilities offered by the media corner are always adapted to the media competence of the respective students. Media corners in primary schools are thus much more usable than media corners in secondary schools, especially on the Internet, so that the options are based on the media competence of the children.
Notebook cart or tablet case
While media corners and computer rooms are stationary places of digital media at schools, a so-called notebook cart or a tablet case is a movable storage space for technology. Schools can accommodate and lock away tablets or laptops in many subjects with a charging connection. This also offers the possibility of a movable computer room. The teacher can bring the car to the class, distribute the laptops or tablets to the students and start the lesson project. After the hour, the car can be put back together and stowed away for the next use.
Notebook classes, netbook classes, or tablet classes
Notebook or tablet classes are yet another step in the introduction of digital devices. Here, the device is actively introduced into the classroom and used in every lesson. The special classes have one device available per student. This is either bought by the parents on order, financed by the support associations and schools, or brought from home by the students according to the BYOD (Bring your own Device) concept. With sufficiently high safety standards, the devices are kept in appropriate precautions at the school so that they are available to every student on a daily basis and cannot be forgotten. The aim of the tablet classes is to create didactic and media pedagogical added value through the use of the devices in the classroom and to promote and challenge the media competence of the students at the same time. Above all, it is important that the device is not only used for the sake of the device, but also receives a special position, i.e. a necessity, in the teaching concept. It must be dealt with in a reflective way. In addition, organizational framework conditions such as fast and reliable WLAN must also be in place. The teachers must also be sufficiently trained in the use of tablets and notebooks to support the students in the application.
Projectors and interactive whiteboards
Beamers and whiteboards mainly offer digital possibilities for the presentation of teaching materials. Students can throw presentations with the beamer on a screen and thus present them to the entire class. Whiteboards mainly offer interactive learning opportunities and have the potential to display graphics and symbolize dynamic progressions. Students can write, draw or complete learning exercises on it.
Advantages and disadvantages of digital media in the classroom
Digital media in the classroom is a double-edged sword. They can have both positive and negative effects. In the pedagogical and didactic implementation, it is important to highlight the advantages and prevent the disadvantages preventively. This is the only way to make successful digital teaching work.
Advantages of digital media
An advantage of digital media is that the motivation of students due to early socialization with new media is significantly higher than if they are only confronted with conservative teaching methods. Among other things, this is also due to the greater involvement of students in the classroom. Through digital media, they can contribute more actively by presenting results, which leads to higher motivation and concentration. Lessons are more interactive.
Especially individual support measures can be supported by digital media in the classroom. Depending on the level of performance of the students, learning units can be repeated on tablets, for example, or deepened for committed students. The teacher can adjust this and thus also take individual pedagogical measures , which is often difficult to implement in the classic teaching model. Students with learning disabilities can also be supported in their understanding by displaying translations of words or showing their meanings or the like. As a result, they can also master challenges independently and the flow of lessons is maintained.
Also advantageous is the unrestricted access to learning content. Students can access the online courses and the materials they contain anytime, anywhere. This facilitates independent repetition or supported repetition with parents or tutors, as school-specific materials can be used.
The use of digital media at school is also a suitable way to promote the media literacy of children and young people. Digitalization makes the professional use of media and the information accessible in it more and more relevant, so that students acquire skills that they can use throughout their school and working lives. Especially researching with trustworthy sources and filtering information and misinformation is very important. The latest PISA study has shown that the discernment of German students in particular in dealing with information from the Internet is weak and it is difficult to differentiate between trustworthy and untrustworthy information and sources. These skills are enormously important and can be promoted through increased support in schools.
The use of digital media also has advantages for teachers. Worksheets are no longer static. From now on, working materials can always be updated and revised. Errors can be corrected or outdated information can be exchanged. Contact with each other is also improved through social media, so that mutual exchange is promoted . This, in turn, can improve the quality of teaching. The same exchange is also possible for students who can support each other. This promotes a good class community and increases the solidarity of the students with each other, as the weaker are supported by the stronger.
Disadvantages of digital media
However, the use of digital media in schools also entails risks and challenges that should not be underestimated.
Students now have a lot of contact with new media and electronic devices. Nevertheless, the familiarization with the handling of the special platforms and applications in school is time-consuming. This time is difficult to spend in the classroom itself, otherwise time is delayed in the curriculum. And in many cases, especially among the older generations, the competence of the teachers is not yet strong enough to be able to guide the students competently. Not infrequently, students are fitter in dealing with electronics than teachers.
Especially in the countryside, we know that reliable W-LAN and a stable mobile phone connection have not yet been developed everywhere. Schools can also be subject to these technical problems. If the Internet fails, the lessons that have relied on the use of new media are disrupted and cannot proceed as planned. The missed material may have to be made up or the lesson spontaneously rescheduled, which confuses the didactic concept.
The classic skills taught at school can also suffer. One of them is the clean and legible handwriting. Due to the increased contact with laptops or tablets, students write less and less manually, which worsens the ability to write well and cleanly by hand. Especially in the case of university continuing education, however, one is still dependent on writing by hand in many respects, so that the competence has by no means become superfluous. Also the understanding of your own spelling mistakes and the checking decreases, since most programs are equipped with very good autocorrect. Students no longer have to pay careful attention to errors, but can rely on the machine. Communication and expressive skills can also decrease, as interactive learning no longer necessarily requires that you have to register literally to participate in classes. This ability is also important in later life and should be urgently promoted.
Finally, the health risks will also be addressed. Because the increasing use of digital devices and the traffic on social media holds a high addictive potential for children and adolescents. Added to this is the increased risk of cyberbullying, to which students are exposed in increasing numbers. In a recent survey, for example, one in three students stated that they had already been or still are victims of cyberbullying . These figures are worrying and show that preventive measures must be promoted more strongly, especially in fair dealings with each other on the Internet.
The advantages at a glance:
The disadvantages at a glance:
Our bestsellers on the subject
Further book recommendations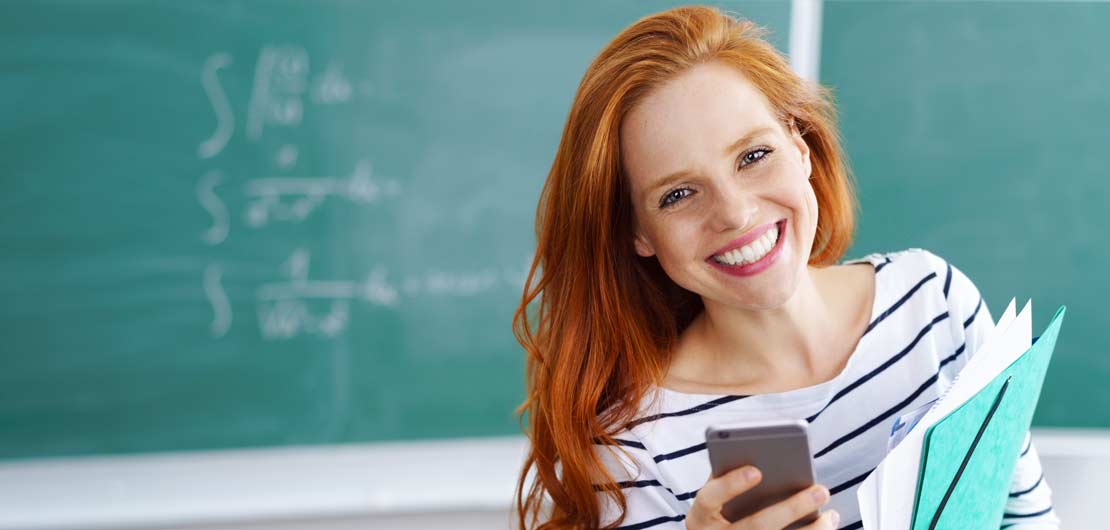 At GRIN, you will find lesson material for teachers, as well as study material for students. Wheather it be in school or at home - GRIN makes daily school life easier.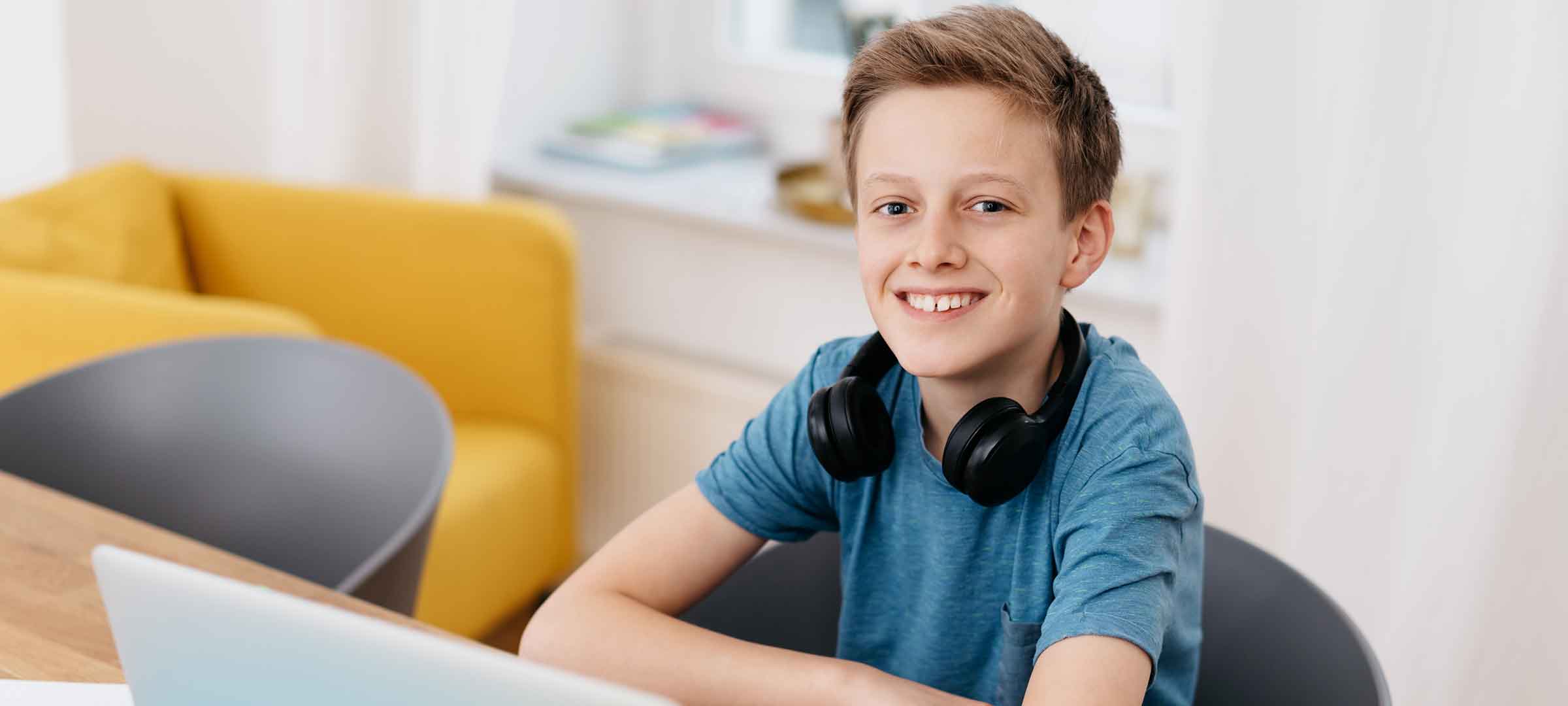 Whether it be for home-schooling or online-tutoring: GRIN offers a variety of study material selected by experts for the most important subjects.